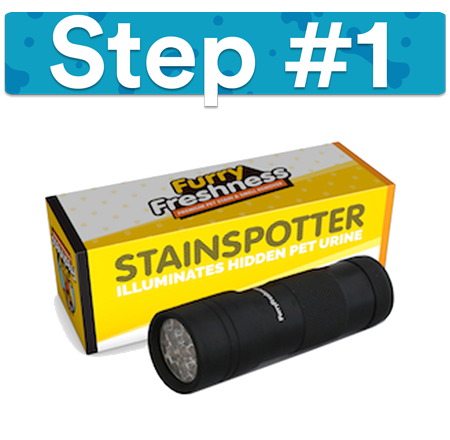 Where Are Those Smells
Coming

From?




It's estimated that over 80% of pet owners have urine hiding somewhere in their home that they are unaware of!




That's 8 out of ever 10 pet owners!




Not to worry, because the first item of this kit will let you know if you're one of them:




The first item of this kit is our signature StainSpotter™. This high powered, 'urine exposing' light INSTANTLY pinpoints exactly where there's hidden urine in your home. Simply press the on/off button and shine on any surface (flooring/bedding/furniture etc.) and immediately any hidden urine will be exposed right before your eyes! 




You'll wonder why you hadn't gotten one of these sooner.




But not to worry, because soon you can.



"I've Found the Urine, Now What?"
Be honest.
How many times have you tried one of those store bought "enzyme" based cleaners and applied it to your carpet?
If you're like most pet owners, you've been let down by the results. 
Either the stains never go away...
...or they go away and then REAPPEAR a short time later.
Right?
Well, this is where FurryFreshness REALLY separates itself from anything else you've ever tried. 
How?